I've always been a bit of a movie buff. Or maybe an addict. My addictions have worsened since streaming sites like Amazon and Netflix came to be. Over the years, my movie collection started out with VHS tapes. Then I had to repurchase the movies on DVD and then of course, Bluray – but only epic movies like Lord of the Rings, Avatar and Thor movies. Because, well, Chris Hemsworth with that hammer deserves to be watched in HD.
Mum and I always watched the Academy Awards which seemed to fall near my birthday. It became an annual tradition as mum and my sisters sat down with a bowl of popcorn to watch the show. We'd chat about how awful the speeches were and debated on who was the most drunk when they swaggered onto the stage.
I totally forgot that the Golden Globes were on last night. In the wake of the #metoo movements and with all the hoopla over the American politics, I've been avoiding a lot of talk shows and award shows. Take Jimmy Kimmel for instance. I used to be a huge fan of his show. But then he became obsessed over an orange faced buffoon to the point it was almost embarrasing. And then I stumbled upon the greatness that is the Graham Norton show.
If you've never watched Graham's show, you must. And you must start off with this rare interview with Bill Murray. Accompanied by Matt Damon and Hugh Bonneville while promoting The Monuments Men (a terrible movie really). The show is unlike any other I've seen. For one, the host actually listens to his guests without interrupting them. The Graham Norton show has been on for 26 seasons – isn't that incredible?
---
Cringe-worthy moments Golden Globes 2020
But getting back to the Globes show last night – there were many cringe-worthy moments. The only reason I even watched the show was because one of my favorite actors of all time – Tom Hanks – received an award. I'm too lazy to look up the name of the award right now.
Tom Hanks – brilliant, loveable – but very sappy
Tom got weepy during his speech which was REALLY long. His long-time actress wife, Rita Wilson, cheered him on. Charlize Theron gave a touching speech welcoming Tom onto the stage. Have to admit, I choked up a little bit when he did even though he blamed his emotions on his cold.
Seriously though, Tom Hanks has been one of my favorite actors since watching an 80's movie called Splash. But that's only because it starred the late Canadian comedian John Candy who was a house-hold name back then. I own most of Tom's movies – including Forest Gump, all the Toy Story movies, Big, The Burbs with Carrie Fischer, The Man with One Red Shoe, Bon Fire of the Vanities, Sleepless in Seattle, You've Got Mail – I mean, the list is long. He's done so many amazing movies.
This award and all the others he's received have been well deserved. The only thing cringe-worthy about Tom was that speech was a tad on the long side. But — again, totally deserved.
---
Ellen's incoherent babbling – cringe-worthy
When Ellen took the stage to accept her award, I rolled my eyes and almost hit that fast-forward button. I've never been a fan of Ellen's comedy routines. It always felt intentionally awkward to me, like she was trying too hard. That said, I loved her in the movie Finding Nemo as the quirky character Dory. I also quite enjoyed her audio-book titled Seriously, I'm Kidding.
As a television host, Ellen has dominated the world of day time talk shows – do I dare say, she's even passed Oprah? I'd have to do research on that first. Ellen is loved by millions of fans around the globe.
But there's just something about Ellen that makes my eye twitch. I can't put my finger on it. But here's a fan-made video displaying Ellen making some of her guests feel awkward.
So, you tell me – what do you think of Ellen? Are you a fan?
Patricia Arquette – cringe-worthy
Patricia Arquette has been another favorite of mine since she starred in a little horror movie called Nightmare on Elm Street. She also starred in one of my favorite horror movies called Stigmata – a movie about a young girl who shows signs of the religious phenomenon.
Patricia won an award (again) last night. She gave a great speech but I was really distracted by her dress. I mean, who dresses these actors? This was just a terrible look. Do these people not own mirrors?
---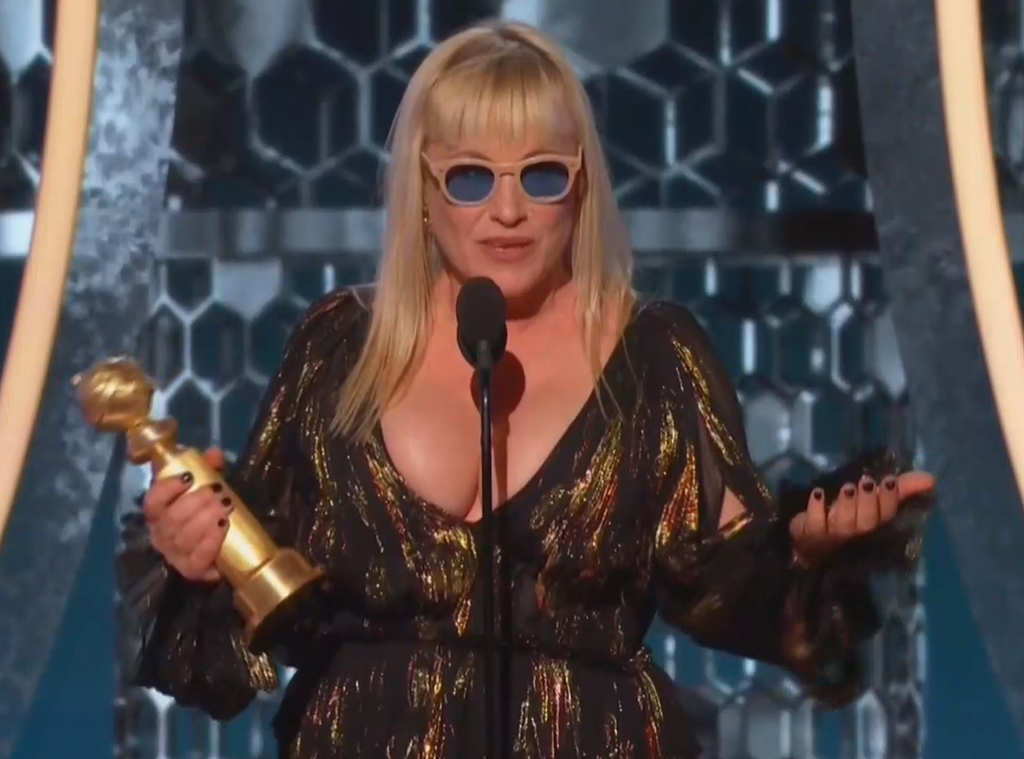 ---
Let's just compare a similar dress worn by the ever-so elegant – Laura Dern. Who wore it better? My vote for best-dressed is for Laura, who won me over in the popular Jurassic Park series back in the mid-90's.
Laura Dern – winner
I would wear this dress – it's gorgeous. And, ahem, age appropriate.
---
Renee Zwelleger – cringe-worthy
The music started playing during Renee's speech but that didn't seem to phase her. "It's so nice to see you!" she said "It's been fifteen years!" she said as if people hadn't heard her the first time. She went on with a very long list of names.
Like most people out there, mum and I fell in love with Renee Zwelleger with the Bridget Jones' Diary movies. At the risk of becoming a gossip blogger, I have to say it's a shame what she's done to her face with plastic surgery. She always was a natural beauty. Her dress was lovely though albeit simple compared to some other stunners.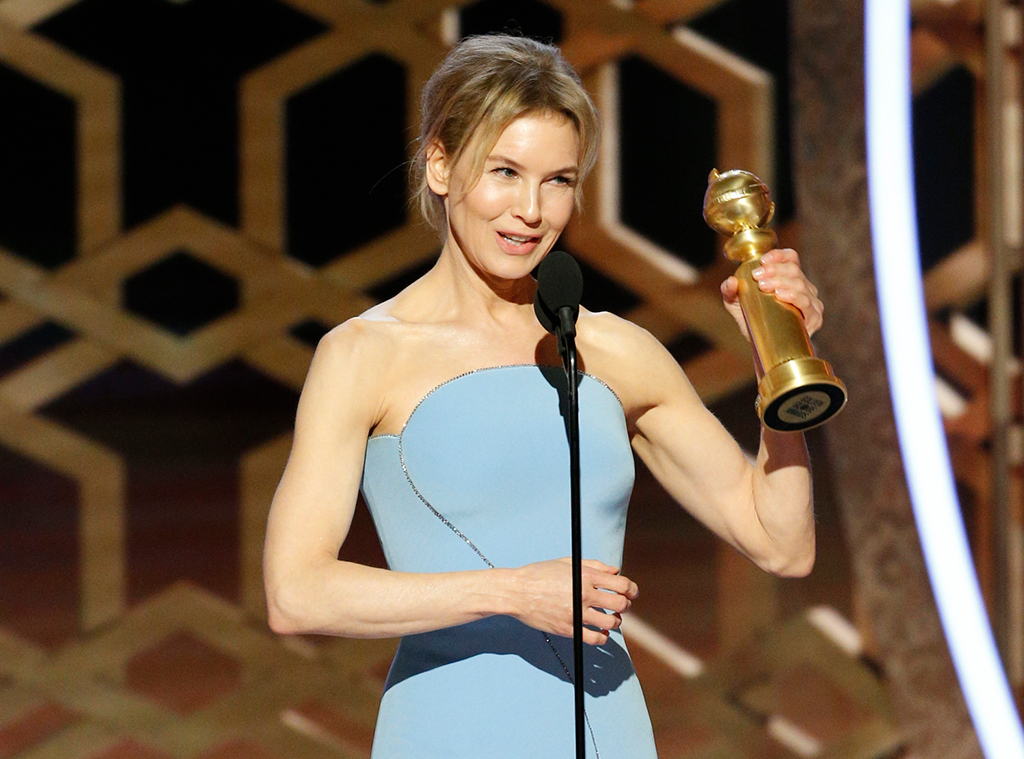 ---
Ricky Gervais was savage
There were many other cringe-worthy moments of last night's Golden Globes. Ricky Gervais was completely savage in his opening monologue. He keeps saying "this is my last year, it doesn't matter" – is it really going to be his last year? His jokes were over the top, and I'm sure he woke up to a lot of angry tweets and messages. But from what I hear – he seems to love the attention and often responds to it via twitter.
---
---
Joaquin Pheonix – speaking of incoherent babbling
I was first introduced to Joaquin Pheonix's work in the 80's movie Parenthood starring actors like Steve Martin, and a young Keanu Reeves. Joaquin would move on to star in a massive blockbuster – Gladiator, which was one of the top movies of 2000.
I made the mistake of watching "I'm Still Here" starring Joaquin Phoenix and Casey Affleck. The reason I watched the film was for the cameos from stars like Bruce Willis. It was a mistake. I still often remark that Joaquin owes me those 1.5 hours of my life back. He hasn't responded to my tweet yet.
Joaquin stumbled through his speech last night when accepting his award. Again, I'm too lazy to look up what awards these people won. Let's face it. They're all shiny little golden statues that actors display on their mantles – or use as luxurious paperweights.
Do I sound bitter? Maybe, just maybe I am.
---
---
Paul Rudd – is truly a gift
Paul Rudd has been a favorite of mine for years. This guy just doesn't age. He joins actors like Steve Martin, Steve Carrell and Bill Murray as being some of America's funniest men. I binge-watched his new show on Netflix which he was nominated for – and I loved every moment of it. I have nothing bad to say about this man at all. So, I'll leave you with a clip from his new show, Living With Yourself – do give it a chance if you need a few belly-laughs.
Paul Rudd has starred in some pretty epic movies including The 40 Year Old Virgin, Avengers End Game, Ant Man, and Forgetting Sarah Marshall – to name just a few. He continues to wow audiences with his youthful appearance, and his often humble and kind nature.
---
Elton John & Bernie Taupin – the highlight of the night
I think I'll end there for now. As much as I really can't stand it when actors bring politics to the stage, I can't get enough of it all. The red carpet rituals with the paparazzi screaming for the actor's attention. Spending more time watching other actor's reactions during long-winded speeches. And taking a page from my mother's book, ogling the pretty dresses and predicting who will wind up on the best and worst dress lists.
I haven't kept up with the latest movies. I had seen flicks like The Lion King and Toy Story 4. But it looks like I'm going to have to catch up on some of the films. As a life-long Elton John fan, I'm looking forward to watching Rocketman. I clapped as he and Bernie accepted an award together. At 72 years of age, Elton John has accomplished more in his life-time than many musicians combined.
Anyway, I'll end this with one of my favorite Elton John songs. Circle of Life- from the original movie – The Lion King.
---
What were you favorite moments of the GG awards last night? Do you agree with my list of cringe-worthy moments? Let me know in the comments!