Have you ever had one of those days where you just wind up being mad at the entire world and everyone who crosses your path? You feel yourself lashing out at people for no reason? Correction. Lashing out for no rational reason?
If you've said yes to any of these questions, you might be where I am right now. Stressed out. Over tired. And frustrated with life in general. And everything that happens to be thrown your way.
Y'all know by now that this month has been busier than most. I leave for Toronto in a few days and I'm super excited for the trip. It took awhile to get there. But I realize I need this vacation even if I really can't afford it. Sometimes you just have to treat yourself.
Today was just one of those days. Actually, this whole week has been like this. I came home the other night was so on edge from the weather, traffic and life in general – that I found myself wishing terrible things upon the entire earth. And everyone in it.
I've been binge watching Stranger Things – so that might be where that comes from. Great show by the way. If you're looking for something to watch – it's highly entertaining.
But watching the show also threw off my sleep schedule this week. It's been weeks since I woke up before 8:00 am. Gone are the Saturday mornings I held so precious to me. Gone is the routine I had worked hard to perfect in order to conquer this fitness challenge.
Also gone? My motivation and determination to let nothing stop me in the way. Instead, I find myself waking up cranky in the morning and am utterly miserable by the time I get home from work. I'm over tired.
But mostly – I'm just burnt out. Physically. Emotionally. Spiritually.
My brain is screaming at me and I've been ignoring the warning signals flashing brightly from deep within my subconscious that somehow manifest into terrible nightmares.
Sometimes, my own mind scares me. I really should get some of these nightmares written out and make a book out of it. I'm pretty sure that's how the prolific Stephen King got his start.
The original "It" book and movie scared the crap out of me as a kid. I might have to stay up tonight and binge watch scary movies for shits and giggles.
So, that is why I haven't been writing a lot. And I'm not apologizing for it. Because…who wants to hear someone bitch and moan about how miserable they are from day to day? I know I certainly don't want to read that. And I definitely don't want to use this blog for that either.
But hey. We're all human. We all have bad days. Or bad weeks. Or bad months. Or – years? Yeah, I might even stretch it that far.
On the upside, I'm officially on vacation. Even though we've had rain non-stop for 32 days – you read that right. Thirty-two days of solid rain. Our city looks like a rain forest. The trees are growing moss. Moss! That usually happens deep in mountain forests.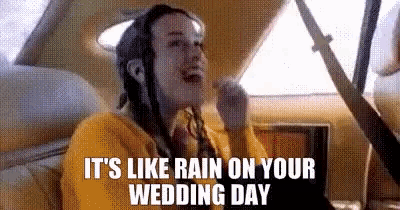 The weather has been a drag. I think it's part of the cause for my mood. Rather than not writing at all – I thought I better post at least something mildly interesting before I leave you for a week.
So here. Here's a clip from my new favorite show – Stranger Things. I had watched the first season when it aired on Netflix and haven't watched it since. But I loved it. It was like watching a really long movie that you didn't want to end. Plus seeing eighties stars like Sean Astin, Paul Reisner and Carey Elwes on screen was just a treat.
And if you don't know who Carey Elwes is… I mean… shame. For shame. Remember Princes Bride?
Stranger Things – SPOILER AHEAD
You have been warned!!!
Don't watch this if you haven't watched season 2 yet. I mean, Don't. Just clicked out of this browser. And move on. I warned you. Don't say I didn't warn you. But I just love Sean Astin. And watching this clip just made my day a little brighter.
So that's what you do when you have a bad day or a crappy ass week. Go make some popcorn. Pour yourself a stiff drink. And binge-watch some cheesy 80's movies or a great show like Stranger Things. Because this is therapy that works for me every time.
Here's Sean Astin as Bob Newby. I loved his character so much.