Last night was a bust. I made the mistake of laying down for a nap after my dental appointment. Yes, another one. I slept right until 10:30. But I guess that's good. I haven't slept well the last few nights. I was doing really great until last week. I need to get back into a regular routine. This is what living with chronic insomnia is like. You'll do well for a month or so. Then you hit a rough patch where you just can't sleep.
I know I've been posting a lot lately but I'm just super stoked to get back into shape. Out of curiosity, last night I pulled out one of my favorite pairs of jeans. They're a size 20W but fit more like a tighter 18W. Jeans are funny that way. I was thrilled when they slid on easily and even fit comfortably around the waist. I haven't been able to wear those jeans in over two years! I just have to remind myself that they don't have great support in the backside. Why do they make low rider jeans anyway? It makes no sense to me.
So anyway, I'm tickled pink. That means I've dropped at least one dress size if not two. Clothes are fitting better and people are starting to notice and make comments.
Today, the makeover continues. I have a hair appointment at 2. I still need to pick up some new boots and work shoes – so I may head out to shop after. I'm also seeing dad tonight. So, a busy day ahead. But then I have two whole days to myself. It's a long weekend here in Canada.
I decided last night to start sharing some of my photography with you. Since my goal here is ultimately to travel again. I haven't been anywhere – except for Montreal in 2017. And part of that was because I was so out of shape in Montreal that the trip nearly killed me. I'm not even joking. I thought I was having a stroke. I had ballooned up to a women's size 24W.
Since Montreal, I've dropped about three dress sizes. Because even the size 24's were too tight at times. It's hard to believe it's taken me two years to get to this point. But a bad back and these migraines have been a real hinder.
I can't wait to get back onto a plane and start traveling this year. I'm thinking Niagra Falls. Or I might head to Vancouver Island. I really can't decide. Here's a picture of Niagra Falls (not mine) – do you think I should go here?
This is what I'll be doing as I eat my breakfast – look into places to stay and search for cheap flights.
My goal is to drop another thirty pounds. I need to be in good walking condition to get back into photography and travel. That's my goal and I'm feeling good about it. I think I've already dropped at least ten pounds this month. I have no idea. My scale is still dead.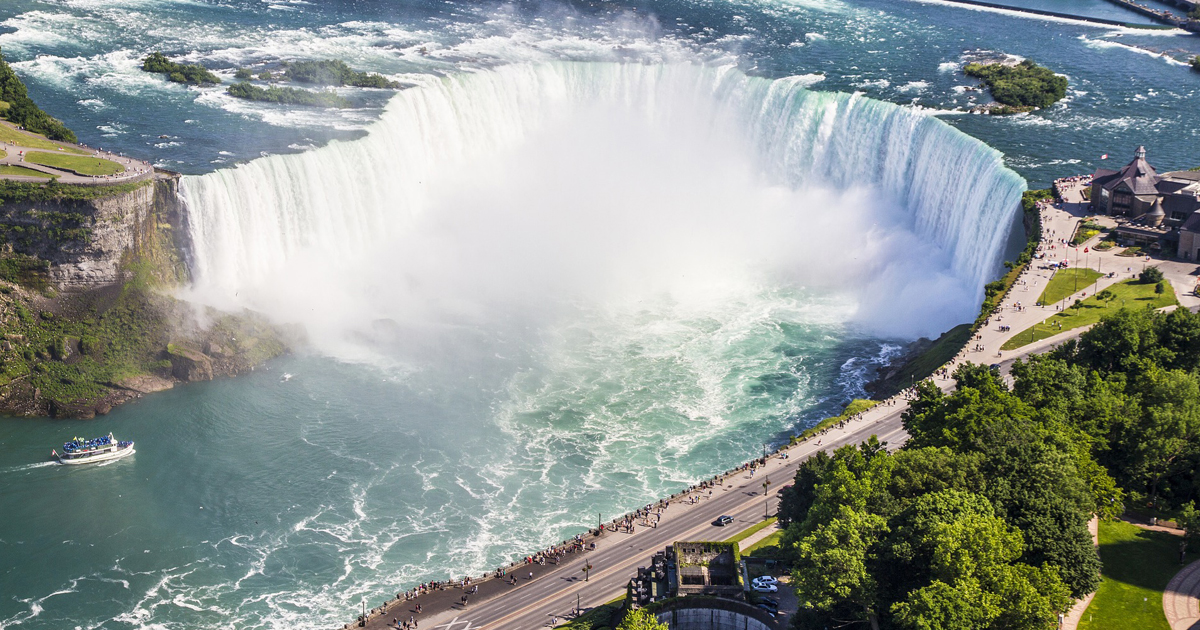 I forgot how much I love to cook. Being in the kitchen for me is rather therapeutic. I cleaned out my kitchen last night. Wiped down the counters and organized everything. It's amazing what you can get done when you can't sleep. There are a lot of hours to fill in when you're running on empty.
My alarm was set for 10:45 am so I could get at least a couple of hours of shut eye. But nope. Nature refused to let me sleep. I climbed out of bed at nine am when I thought of what I could make for breakfast. Just the idea of cooking again got me really excited and I jumped out of bed.
Cooking is a passion of mine. Three years ago – I had no idea how to even cut open an avocado. I hopped onto Youtube for some recipe ideas and spent the next few months challenging myself to learn one new recipe each week.
I tried all kinds of new foods. Fried eggplant,  Stuffed mushrooms. Chicken marinated in spicy rum sauce. My mouth is salivating just thinking about it – but I deleted a lot of the pictures I had taken.
I made up this recipe for an amazing six bean chili. See below. It is amazing. I'll post the recipe another day.
Today, I went for a super easy omelette for breakfast. I love cooking so much. If you pre-cut and wash all your veggies when you come home from the grocery store and place them in Rubbermaid containers – that's half the job done. You can batch cook and freeze leftovers for a rainy day. That is, when you remember to eat them.
Here's a picture of this tasty omelette. It's really easy to make. Just crack open a couple of eggs, mix with pepper, Mrs. Dash and some Basil. Use some PAM spray or olive oil in your pan. Throw in some tomatoes, mushrooms and whatever cheese you want. I used Goat Cheese from Goat Milk because even though it's expensive – it's very good for you.
I paired that with one slice of toast, and a handful of strawberries.
That's my Saturday morning so far. I have a hot cup of coffee and a healthy plate of food on my lap. Confession? I haven't used my dining table to eat at for years…it's a storage place for all the junk I have no idea what to do with. I really should get on that so I can have friends over again.
So, that wraps up my Saturday morning. I'll get the laundry going, and workout before I head out for the day. Cheers to you this sunny, summery Saturday morning. How do you start your weekends? This is a great way to start mine!